Services
IT BSS Service
Among Adurus grupa's greatest strengths are the capabilities and experience of its people and teams. Our professionals have worked on complex projects ranging from multiple systems integration, to business process reengineering, all the way to deployment of the newest products and technologies. Adurus grupa values this knowledge and experience.  Adurus grupa experts and manager are ready to lead and steer any complex IT implementation project in BBS environment, especially in Telecom industry. We have a process to capture, manage and leverage this intellectual capital across the globe. The result is a networked community of professionals who can create, share, and build upon knowledge across time and distance. The potential benefits include reuse of intellectual capital to shorten cycle times and leverage innovation and creativity. Adurus grupa is also able to ensure additional experts for the project.
Adurus grupa acts to improve business results of the customers and ensures their efficiency by end to end consulting services and/or by implementation and optimization of ICT systems, by using best business and software engineering practices and open standards
Goal is not only to reduce development costs and shorten the time-to-market, but also to help our customers to gain a competitive advantage on the market through the efficient use of innovative solutions.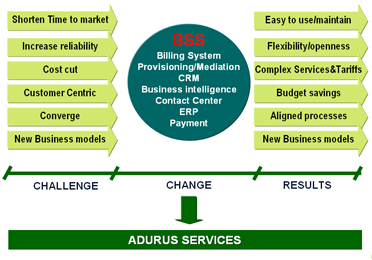 Adurus grupa services and customer benefits